Birthday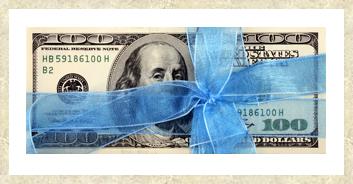 Birthdays happen every single day. Someone, somewhere, is celebrating their birthday today. With all the people in your life, it's so much easier to give cash as a gift. But why stop there?
Pads of cash are sure to liven up any birthday party, and the person celebrating will absolutely love their pad of cash! Instead of wondering if there is something special in the card you hand them, give them a pad of cash and let the special birthday boy or girl know you care.
Pads of Cash for birthdays start in smaller increments to make it easier to give the amount you wish if it's for a child. We still offer higher amounts, but all of us here at Pad of Cash know how much kids love to play with their money and we didn't want your kids to feel left out.
Can't wrap a gift to save your life? Well, us here at Pad of Cash have you covered! Just choose an option below and we'll wrap up that gorgeous pad of cash for you.
_____________________________________________________________________
*Price includes the amount of cash in pad, a $30 handling fee, and PayPal charges. If you don't want to pay the PayPal fees, you can contact us to pay by another method. View shipping rates and conditions.